I've always thought that I don't catch public moods. This is the story of my fall.
On my way home past Narinkkatori on Thursday the 3rd of May I saw that the building of Eurovision Village had started.

Next Sunday I went on a private Eurovision Walking Tour. Eurovision Village was in full swing with Stevan Faddy of Montenegro singing 'Ajde kroci on the stage. This was the turning point. The performance was surprisingly good. I began to feel that maybe something could be said for experiencing the ESC in real life - once in a lifetime.

On Monday I bought ESC 2007 playing cards for my mother, a key ring for myself, and sent a birthday card with a picture of Hanna Pakarinen to my aunt in Sweden with a special ESC postmark - unfortunately the ESC stamps hadn't arrived yet.

On Tuesday they held the World Book Day Fair on Lasipalatsi Square. Incredible to say, but the amount of books displayed in the stalls disgusted me!

On Wednesday I took a look at Huuto.net. (Un)fortunately there were tickets for the final for sale. I started bidding, and got one, for 250 €.
On Thursday I fetched my ticket. The semifinal on TV was a surprisingly good show. Four of my favourites got into the final, although not Iceland that I had voted for.
Saturday was the great night. My place was on the top row in Hartwall Areena. I could see everything, even the roof structures, but the performers were tiny and insignificant. Acoustics was far from excellent, and some songs suffered more than others. There were surprisingly many songs that I liked, even the least significant seemed good in this whole, although by now I had reverted to my usual role as an observing outsider. I voted for Sweden, partly out of Nordic solidarity.
And on Sunday afternoon I watched the rerun on TV...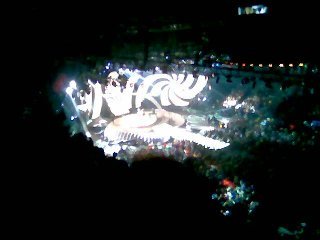 I think this was a very good year for the Eurovision Song Contest. The winner was a song, not show, and the singer, Marija Serifovic of Serbia, was a fully dressed plain woman.