Yesterday it was rainy and cloudy, and I wondered whether to go to the Töölö Bay Moonlight Swim event as planned, but in the evening it got brighter, and I really felt like going.
It was the 12th time that the event was organized by Suomen Latu ('Finnish Piste') and Helsinki Environment Centre. They said 150 people had signed up. I hadn't. At 8:30 pm there was an opening by the Opera with speeches and warming-up. I tried to join in to complete the experience but felt like an idiot and stopped. Under which stone do those exercise sergeant majors crawl out from?
Anyhow, finally we were led to the ad hoc jetty pitched in the bay and the two, far too small, dressing tents. And then we queued to get into water - only ten people were allowed on the jetty at the same time - when, lo and behold, a familiar voice was heard, the President was there being wrapped in a white terry robe, by her security man, I suppose. She said, towards the direction of my piece of the queue, that she had come a bit earlier to escape the crowds, all very ordinary and casual.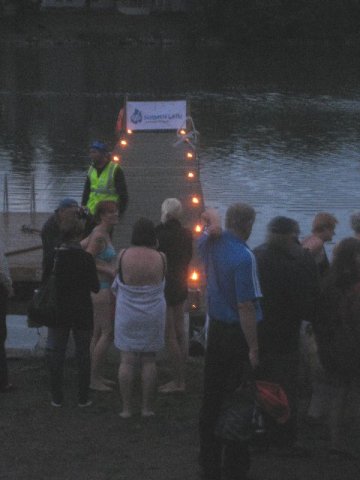 The President on the right (photo ©Magpie)
In due time I got into the water, which was quite warm, even the moon peeked out through the clouds. I swam with the crowd towards the fountain, with the idea of going round it, if I felt strong enough. I did, but when I was about 2/3 of the way there was thunder, and a man from a security kayak said we'd better turn back. Which we did. They weren't letting any more people into the water as I climbed up. I proceeded to be hosed with warm water by a fireman, and then continued towards the crowded dressing tents to get into dry clothes.
Again I queued, this time for sponsored warm juice.
Having drunk my juice I went to the tram stop, and decided I didn't want to wait for 10 minutes... and after a couple of minutes it started pouring. By the time I reached the next stop I was soaking wet, but I got into the tram, anyhow. Gene Kelly forgot, or chose to ignore, that no matter how much you feel like singin' and dancin' in the rain, wet clothes are heavy. And cold.
A memorable experience, however.