Having seen the advertisement for Driving School Lilliputti last August I signed for Ladies' Course, in order to avoid 17-year old boys with an attitude. The first lesson in November, at Malmi swimming hall, was a pleasant surprise. The teacher was nice, a showman with a sense of humour. My own start was unfortunate: I got lost on my way there, first I turned to the wrong side of the railway track, and then walked too far in the other direction. But I was on time.
21st Nov at 4 p.m. I met the teacher at Kulosaari metro parking place for my first real driving lesson in Mustikkamaa parking place. I drove a car for the first time in my life, twice round the parking place close to the sea. I didn't drive into the sea, and I didn't bump into anything, but I felt it would take some time till I'm in control of the car. My driving lessons were transferred to January in the hope that there will be some snow on the ground and thus a bit more light.
On my second driving lesson on 4th Jan I had forgotten all I had learned.
On my third driving lesson on 8th Jan I started to feel that I might actually learn really to drive: I drove from Mustikkamaa to Kulosaari parking place.
16th Jan was a double lesson: in addition to the parking place exercises I drove around Kulosaari.
18th Jan: I drove from Kulosaari parking place to Mustikkamaa, and after a couple of rounds on the parking place there, back to Kulosaari almost independently. Top speed 40 km/h.
Vuosaari, 22nd Jan: I had proceeded so far that I drove 60 km/h when speed limit was 50 km/h. The object of the lesson was changing gears. I was so concentrated on driving that I was afraid of nothing and no-one. It takes courage to be a driving instructor! Well, I didn't drive on the hare crossing the road, nor on pedestrians.
29th Jan: I drove from Vuosaari metro station to Myllypuro metro station, part of the way on Ring I.
1st Feb: gears and crossings in Vuosaari, some progress.
5th Feb: gears and equal crossings in Vuosaari.
15th Feb: from Vuosaari to Itäkeskus and back: traffic lights, 5th gear, 60 km/h. The teacher was delighted with my progress.
1st Mar: I passed the theory test at first try.
7th Mar: Using all gears, driving on motorway 100 km/h. The teacher said that we'll try get me a licence by mid-April. I'll have to take extra lessons though.
14th Mar: Parking "in a pocket".
15th Mar: Just driving, from Vuosaari to Kulosaari parking place. This was the last regular driving lesson, the future ones will be extras. I'm deadly.
21st Mar: Exceptional turns, roundabouts, gears, parking... The teacher wants us to try to pass the driving test at first try. At night I dreamed of driving and changing gears.
28th Mar: From Vuosaari to Kontula metro station. Parking "in a pocket". The motor kept stopping at traffic lights.
11th Apr: Slippery road track near Porvoo with another middle aged pupil from the second Ladies' Course. She drove there from Puotila, I back to Itäkeskus along motor ways. The track wasn't too bad, but the time was too short.
12th Apr: A trial test, driving from Kulosaari to Tammisalo and back, no advice from the teacher, to see how I cope on my own. A couple of situations when the teacher had to interfere, but not too bad as a whole.
16th Apr: From Kulosaari to Kallio, practising driving on one-way streets and tram lines, and from there to Vuosaari where we drove on the roads where the real driving test will take place.
23rd Apr: Just driving around, from Siilitie to Kulosaari.
26th Apr: From Vuosaari metro station to Aurinkolahti, and from there to Itäkeskus. Not too bad, but I wouldn't have passed the test. Strange how I keep making the same old mistakes over and over again.
2nd May: First driving around in Vuosaari, then test. Failed - I was too nervous.
9th May: Driving around Vuosaari - teacher was happy, I wasn't.
15th May: A double lesson: first driving in Vuosaari, then towards Porvoo and back on the motorway. Not too bad. The teacher said he'd be ready to let me alone in the traffic.
16th May: Driving in daytime from Kulosaari to Vuosaari and Puotila. Driving test. Passed!
Now I have a driving permit, and within a month I'll get my temporary licence, valid for two years. There still are lessons for driving in the dark and the second stage to get through within the two years. So far I have paid for teaching, tests and official fees altogether 2045 € (basic teaching and book 1032 €, and extra lessons almost 800 €).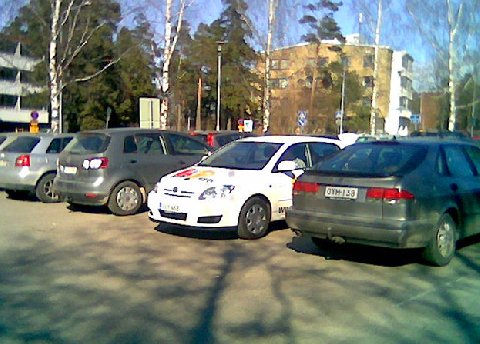 The driving school car and teacher waiting in Kulosaari.
When I started the driving school I bought a newly published book of poems on the subject, Tää tojota ei lähe liikkeelle: ajopäiväkirja ('This Toyota won't start: A Driver's Log') by Arja Tiainen, telling about her numerous, but unsuccesful, efforts to learn to drive, and her relationship with cars. It's moderately amusing, but not unforgettable, although it has sold well. Once again one has to wonder what makes a text a poem. At least not a mention of butterflies. But here's a short one, with butterflies:
YOU HAVE TO MOVE OVER TO THE VERGE, HOW DO YOU ACT?

You can't drive on main roads all the time. It's not always even worthwhile. Let others go first.
I'll draw breath here and watch butterflies.