Last Monday I was on an excursion with 170 museum people to the new Maritime Museum building in the port of Kotka, still under construction and to be opened on the 11th of July (http://www.nba.fi/en/mmf). The interesting-looking building represents a wave breaking on the shore. What associations in these days of global warming and tsunamis!
As is common with contemporary buildings, the interior seems more attractive than the outside, but it's not fair to judge because it is still unfinished. Also the work spaces seem quite good. One hears almost with envy that the workers shall each have their own office, as the new premises planned for us in Helsinki shall mean open-plan offices. We are not pleased!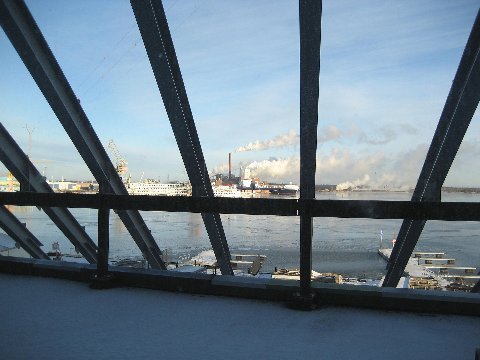 The smoke of the Sunila mill from inside the Maritime Museum
On the way back we made a tour of the Sunila area with a sulphate cellulose mill and a residential area designed by Alvar Aalto in the 1930s. The houses, which look quite pleasing, are protected and undergoing repairs, but the mill risks being pulled down as the owners plan a new manufacturing process under the open sky.