I spent most of my summer holiday reading in the garden by the squirrels' two-tiered highway with a young hare hiding behind a peony.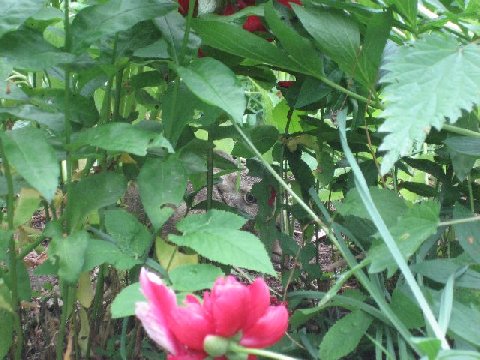 Find the hare!
I usually get myself something a bit heavier, slower reading for the long holidays, often in French. Last year it was Montaigne's Essais I-III which I finished only this midsummer - a little too slow. I bought also Esineiden luonto by Roger-Pol Droit at a summer sale but didn't read it then. Someone greets the author "How are things?" and gets him thinking. It also got me thinking, not so much about things as about words and translating. This year I bought something lighter instead, Hunters of Dune by Brian Herbert and Kevin J. Anderson. It's not nearly in the same class as Frank Herbert's originals but better than the feeble "prequels".
And what else did I read? Books bought on earlier holidays that I didn't read then, books read long ago, my mother's Library Home Service books - do they really think 80 year olds like bad detective stories and insipid reminiscences?, newspapers, magazines... Altogether thirteen books in three weeks - could have been worse.
| | |
| --- | --- |
| | In addition to reading, gardening and drawing, I pondered the mystery of the broken birdhouse: I've seen many squirrels entering it, but none coming out, reminding me of Tuonela: "Äijä sinne mennehiä, ei paljo palannehia". |